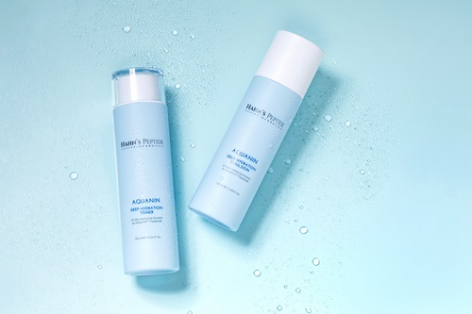 HAHN'S PEPTIDE, a cosmetic brand of SupadElixir Co., Ltd., which specializes in peptides, unveiled Aquanin Deep Hydration Toner / Emulsion with its low-irritation formula for sensitive skin.
HAHN'S PEPTIDE's newly-unveiled Aquanin Deep Hydration Toner / Emulsion (hereinafter, Aquanin Toner / Emulsion) contains AdiponinTM , a peptide ingredient, that removes dead skin cells on the epidermis, strengthens the weakened skin barrier, giving a healthy and youthful glow on your face.
AdiponinTM, 3-mer peptide ingredient independently developed by SupadElixir, was derived from Adiponectin, which is also known as the good hormone. Numerous studies on dermatology have shown that the decline in adiponectin in the body is one of the major reasons behind sensitive skin with various skin torubles such as dead skin cell, itching and irritation.
Aquanin Toner is viscous liquid formulation that removes dead skin cells from the dry skin and provides ample moisture to the skin, enhancing the skin texture. It leaves skin feeling hydrated with only one use and provides immediate hydration to soothe the dry skin without the feeling of tightness.
Aquanin Emulsion is easily absorbed into the skin quickly without any stickiness, so it can be used by anyone of all ages regardless of the skin type. It also contains ceramide, natural moisturizing factor (NMF), hyaluronic acid, and betaine, which regulates the balance of oil and moisture in the skin, enhancing skin moisturizing power.
Both products received EWG green grade for all ingredients, and therefore can be used safely and reliably without causing any irritation to the human body and nature.