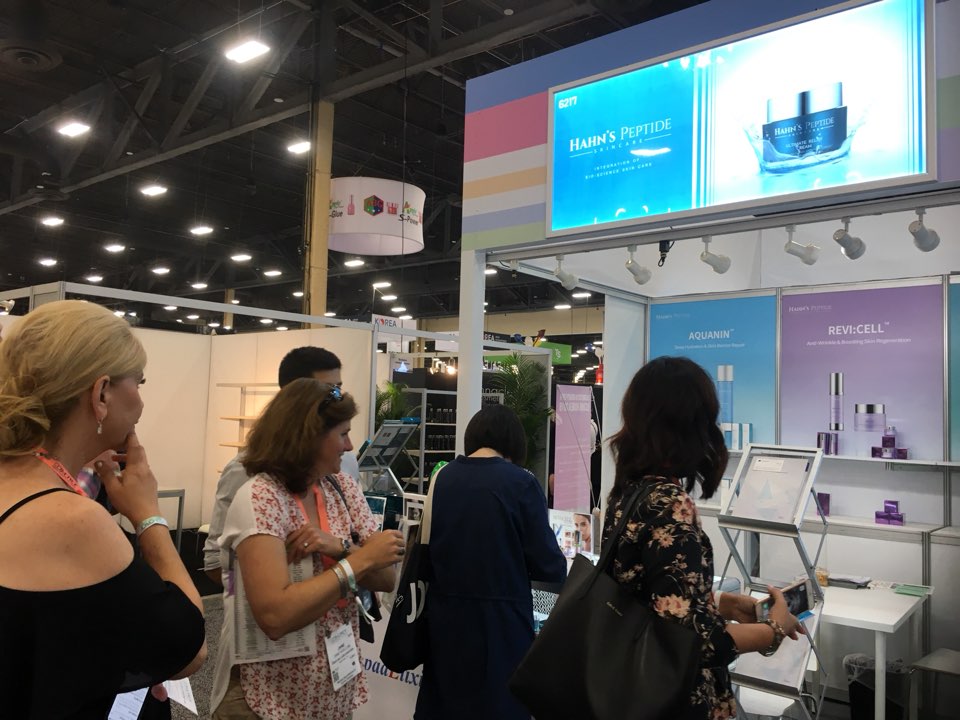 SupadElixir, which specializes in tripeptide, announced on the 7th that it attended 2018 Cosmoprof North America Las Vegas which was held at Mandalay Bay Convention Center
from the 29th to 31th last month.
Cosmoprof, the largest B2B trade show in the cosmetics and beauty industry, is held in major regions of the world. This time it brought a total of 36,000 people together from 1,278 companies in 45 countries across the globe.
SupadElixir unveiled five HAHN'S PEPTIDE's products, AQUANIN DEEP HYDRATION TONER / EMULSION, REVI: CELL YOUTH SERUM / CREAM and ULTIMATE RELIEF MASK.
Hahn's peptide Ultimate Relief Mask is excellent in relieving redness and calming skin. It was once exhibited at Exhibition 'IECSC 2018,' New York Beauty exhibition.
It contains BINTERINTM, SupadElixir's patented tripeptide, to keep the complexion clear and glowing from summer heat.

The new products, Revi:CellL YOUTH SERUM/CREAM, have drawn a lot of attention.
HAHN'S PEPTIDE Revi:CellL YOUTH, an anti-aging line, contains SyderminTM, which is effective to improve the elasticity of the dermis, and SynepinTM, which is effective for reducing the wrinkles of the eyes. It is effective for increasing skin elasticity and hydration, making skin firmer and restoring it from fatigue and stress. It can be a perfect solution to those who is interested in anti-aging.
Five products of SupadElixir Co., Ltd. passed the primary irritation test through 24-hour skin patch, and were proven for their safety and reliability.
"We draw positive results by conducting a meeting with local companies and discuss ways for continuous market expansion and entry into the US and Latin American markets. The popularity of K-Beauty enabled our products to attract many people. We will spare no efforts in expanding our capabilities at more exhibitions and conferences," said an official from SupadElixir regarding the exhibition.
Supadelixir specializes in tripeptides and expanding its market presence by exporting its products to approx. 4-5 countries around the world, including North America and countries in East Asia and Oceania.