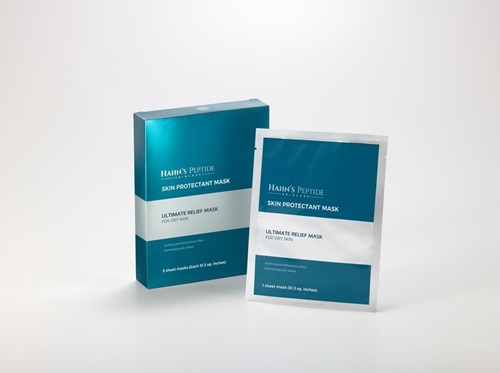 HAHN'S PEPTIDE announced on the 6th that it has launched Ultimate Relief Mask Pack, a special mask for dermatology that immediately calms damaged skin without irritation.
The Ultimate Relief Mask Pack passed the skin irritation test with skin irritation index of 0, allowing for outside activities right after receiving dermatologic treatments such as Fraxel and micro-needling.
BINTERINTM, a major peptide ingredient, is a patented ingredient of SupadElixir Co., Ltd. It was proven for its soothing effects by dermatologists across the US after being included as a core ingredient of exclusive products used after dermatological procedures manufactured by Aesthetic Biomedical Inc. and Omni Biomedical Inc., US dermatological device distributors.
It is rich in ceramide and hyaluronic acid, NMF (natural moisturizing factor), increasing the moisturizing power which is essential not just after dermatology procedures but for daily life in managing dry and sensitive skin .
"Starting with Ultimate Relief Mask Pack, we will expand the development of exclusive products containing patented ingredients for dermatologists and skin care professionals," said an official from HAHN'S PEPTIDE.
HAHN'S PEPTIDE is an esthetic brand created based on advanced bio life science technology by applying 8 kinds of tripeptide patent ingredients developed by peptides researchers and experts. Its Ultimate Relief Cream, which is excellent in dealing with oily skin troubles has gained great popularity since its launch.
The company will introduce new products containing EGF, FGF, Adiponectin-derived peptides in the second half of this year anti-aging serum and cream which promotes skin elasticity, and daily toner and emulsion which hydrate the skin throughout the seasons.